Kane County Family Law Firm, Goostree Law Group, Named Best Law Firm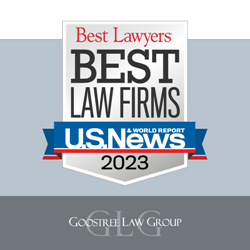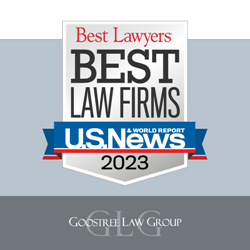 ST. CHARLES, Ill. (PRWEB)
November 28, 2022
Goostree Law Group is excited to announce that it has been recognized by Best Lawyers and U.S. News & World Report as a Best Law Firm of 2023. Being included in this elite and exclusive group is a substantial professional honor. Only a very small percentage of law firms are honored in this fashion. Every attorney in the firm has worked hard and worked smart to achieve this level of recognition.
Best Lawyers is a highly reputable professional organization dedicated to identifying and recognizing the top attorneys and law firms. The organization partners with U.S. News and World Report to establish a database of the most elite legal advocates in each geographic region and practice area. Goostree Law Group's outstanding work in divorce and family law has earned it a high ranking on the Best Law Firms list.
Best Law Firm rankings are determined carefully, by evaluating a combination of peer recommendations, client results, and an independent professional evaluation. The firm has a long history of achieving outstanding results for its family law clients, drawing on its decades of collective advocacy experience to develop customized legal strategies in each individual case.
The attorneys at Goostree Law Group take a comprehensive and realistic approach to addressing all manner of family law concerns. From helping divorcing parents establish a satisfactory parenting plan through mediation to fighting for victims of domestic violence in court, the firm's team takes each and every concern raised by their clients very seriously. This level of commitment to providing responsive and high-quality client service contributes to the firm's ranking.
About Goostree Law Group

Goostree Law Group is a family law firm with offices in St. Charles and Wheaton, Illinois. The firm serves clients throughout Kane County and DuPage County, Illinois. Focused on practice areas such as divorce, child custody, adoption, and parentage, these attorneys aim to provide families in their community with the highest quality of legal service.
To learn more about Goostree Law Group or to contact the legal team, please visit: https://www.familydivorcelaw.com/
Share article on social media or email: